[smoothslider ID = 1]

The Guinea Boat by Alaric Bond
Alaric Bond's eighth novel, The Guinea Boat.  Set in Hastings, Sussex during the early part of 1803, Guinea Boat tells the story of two young lads, and the diverse paths they take to make a living on the water.  Britain is still at an uneasy peace with France, but there is action and intrigue a plenty along the south-east coast. Private fights and family feuds abound; a hot press threatens the livelihoods of many, while the newly re-formed Sea Fencibles begin a careful watch on Bonaparte's ever growing invasion fleet. And to top it all, free trading has grown to the extent that it is now a major industry, and one barely kept in check by the efforts of the preventive men.
Volume III of the Blackwell's Adventures series
In a multigenerational saga of love, war and betrayal, Captain Blackwell and Mercedes continue their voyage in Volume III of Blackwell's Adventures. The Blackwell family's eventful journey from England to Hawaii, by way of the new and tempestuous nations of Brazil and Chile, provides an intimate portrait of family conflicts and loyalties in the late Georgian Age. Blackwell's Homecoming is an evocation of the dangers and rewards of desire. ISBN 978-0-9882360-7-3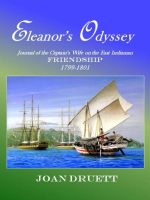 It was 1799, and French privateers lurked in the Atlantic and the Bay of Bengal. Yet Eleanor Reid, newly married and just twentyone years old, made up her mind to sail with her husband, Captain Hugh Reid, to the penal colony of New South Wales, the Spice Islands and India. Danger threatened not just from the barely charted seas they would be sailing, yet, confident in her love and her husband's seamanship, Eleanor insisted on going along.  Joan Druett, writer of many books about the sea, including the bestseller Island of the Lost and the groundbreaking story of women under sail, Hen Frigates, embellishes Eleanor's journal with a commentary that illuminates the strange story of a remarkable young woman. ISBN 978-0-9941152-1-8
It's 1881 and a daring act of piracy draws the ambitious British naval officer, Nicholas Dawlish, into a deadly maelstrom of intrigue and revolution. Drawn in too is his wife Florence, for whom the glimpse of a half-forgotten face evokes memories of earlier tragedy. For both a nightmare lies ahead, amid the wealth and squalor of America's Gilded Age and on a fever-ridden island ruled by savage tyranny. Manipulated ruthlessly from London by the shadowy Admiral Topcliffe, Nicholas and Florence Dawlish must make some very strange alliances if they are to survive – and prevail. ISBN 978-0992263690
Congratulations to Joan Druett — The Beckoning Ice Makes the Long List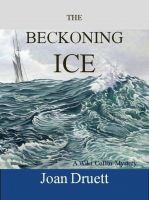 Congratulations to Joan Druett! Her crime thriller, The Beckoning Ice, the fifth of her Wiki Coffin series of maritime mysteries, is one of the longlisted titles for the 2014 Ngaio Marsh Award.
The  Beckoning Ice is part nautical adventure, part murder mystery, and part thriller, as well as thoroughly researched historical fiction. A multi-award winning nautical historian and novelist, Joan Druett brings a historian's eye for detail and a novelist's imagination, sense of character, plot and pacing to the novel. The tension only keeps building and the actions never waivers.
New from Alaric Bond — The Torrid Zone
We are very excited about Alaric Bond's latest, The Torrid Zone. now available as an ebook or in paperback.  From Historical Naval Fiction:  For his latest book Alaric Bond has returned to his popular Fighting Sail series.  A tired ship with a worn out crew, but HMS Scylla has one more trip to make before her much-postponed re-fit. Bound for St Helena, she is to deliver the island's next governor; a simple enough mission and, as peace looks likely to be declared, no one is expecting difficulties. Except, perhaps, the commander of a powerful French battle squadron, who has other ideas…
With conflict and intrigue at sea and ashore, The Torrid Zone is filled to the gunnels with action, excitement and fascinating historical detail; a truly engaging read.
New from V.E. Ulett — Blackwell's Paradise
Relive the pleasure of falling into the past in Volume II of Blackwell's Adventures.
The repercussions of a court martial and the ill-will of powerful men at the Admiralty pursue Royal Navy captain James Blackwell into the Pacific, where danger lurks around every coral reef. Even if Captain Blackwell and Mercedes survive the venture into the world of early nineteenth century exploration, can they emerge unchanged with their love intact. The mission to the Great South Sea will test their loyalties and strength, and define the characters of Captain Blackwell and his lady in Blackwell's Paradise.
Turn a Blind Eye  — a New Novel by Alaric Bond
Autumn, 1801. The South Coast of England and smuggling is rife…
Newly appointed to the local revenue cutter, Commander Griffin is determined to make his mark, and defeat a major gang of smugglers. But the country is still at war with France and it is an unequal struggle; can he depend on support from the local community, or are they yet another enemy for him to fight? With dramatic action on land and at se a, Turn a Blind Eye exposes the private war against the treasury with gripping fact and fascinating detail.
Available now on Amazon, Barnes & Noble, and the Apple iBook store.
McBook Press' wonderful publication Quarterdeck, has a fascinating interview with Joan Druett in their June 2013 edition.   We are reposting it here with permission.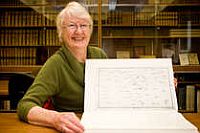 Award-winning author Joan Druett sailed back into nautical fiction in 2005 with the launch of A Watery Grave, introducing the Wiki Coffin Mysteries, which are set against the U.S. Exploring Expedition in 1838. By this time, Druett was already an established author, writing maritime history, as well as fiction. Druett, who lives and writes in New Zealand, launches her Promise of Gold Trilogy this month. It will be digitally published by Old Salt Press, with trade paperback editions following.
Quarterdeck recently interviewed the author just as she was about the head out to sea:
Read more
Old Salt Press is an independent press catering to those who love books about ships and the sea.  We are an association of writers working together to produce the very best of nautical and maritime fiction and non-fiction.  We invite you to join us as we go down to the sea in books.