New Books from Old Salt Press
Turn a Blind Eye  — a New Novel by Alaric Bond
Autumn, 1801. The South Coast of England and smuggling is rife…
Newly appointed to the local revenue cutter, Commander Griffin is determined to make his mark, and defeat a major gang of smugglers. But the country is still at war with France and it is an unequal struggle; can he depend on support from the local community, or are they yet another enemy for him to fight? With dramatic action on land and at se a, Turn a Blind Eye exposes the private war against the treasury with gripping fact and fascinating detail.
Available now on Amazon, Barnes & Noble, and the Apple iBook store.
McBook Press' wonderful publication Quarterdeck, has a fascinating interview with Joan Druett in their June 2013 edition.   We are reposting it here with permission.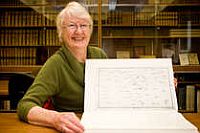 Award-winning author Joan Druett sailed back into nautical fiction in 2005 with the launch of A Watery Grave, introducing the Wiki Coffin Mysteries, which are set against the U.S. Exploring Expedition in 1838. By this time, Druett was already an established author, writing maritime history, as well as fiction. Druett, who lives and writes in New Zealand, launches her Promise of Gold Trilogy this month. It will be digitally published by Old Salt Press, with trade paperback editions following.
Quarterdeck recently interviewed the author just as she was about the head out to sea:
Read more
Old Salt Press is an independent press catering to those who love books about ships and the sea.  We are an association of writers working together to produce the very best of nautical and maritime fiction and non-fiction.  We invite you to join us as we go down to the sea in books.